Momentum Mag - Daily Commuting on the C:1 City Bike by roll:
Find it at: rollbicycles.com
Price: $699.00 USD ($789.00 USD with rack and fenders). Use discount code LD2017 in the checkout.
Build to order so you get a bike that meets your needs. Manufactured with 6061 aluminum frame and forks, 6 different frame and fork color options and 2 different component colors for you to create and personalize your own ride. The streamline frame and custom riser bars put you in a more relaxed head and shoulder position, while still maintaining the most efficient pedal stroke. Sealed bearing hubs, headset and bottom brackets, SRAM Via Centro 1×10 drivetrain, with a single trigger shifter and Tektro MD-M300 cable actuated disc brakes. Weight Approx. 23.5lbs based on a Size 2 frame and fork.
Tell Your Friends
As the reviewer of this bike what immediately struck me about the C:1 City was the curb appeal of the dark grey matte finish of the frame and fenders. There is something really nice that happens when they are both nicely coordinated. The bike is build to order so you can choose the colors that best suit you. The next thing that I really notice while riding is the simplicity of the single shifter and 10 speed rear cassette. The gear range is perfectly adequate for all regular city hills. The bicycle feels light, quiet and smooth during the ride.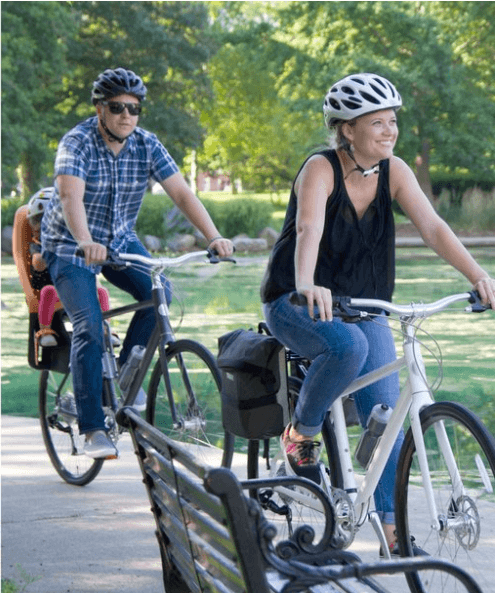 Wish List
Simplicity appears to be the watchword on this design and there is not a single extraneous braze-on to muddle the clean lines of the bicycle. For most riders the rear rack is totally adequate. But since the bike rides so comfortably I wonder if it would have been too difficult to add a couple braze-ons to allow someone to add a front rack for touring.
Ideal User
This bicycle is suited to the rider who wants to get around on a good looking bicycle that is no slouch. This is a bicycle that can both the bike you take for a comfortable leisurely cruise but can also power up a hill and be speedy.
Summary
This bike still amazes me in it's quietness. So many bikes develop little creaks and groans over time, but after a couple weeks of continuous use the C:1 City has not revealed any sound other than the smooth sound of the tires on the road or the gentle roll of the break pads gripping the disk. A sure sign of the high quality components being used throughout. I imagine this will continue to be a low maintenance bike that will make both me and my wallet very happy.
The riding position was comfortable on all fronts. My wrists and back never got soar so I was never hesitant to take it on longer rides. For decades roll: has worked with bike fit, ergonomics, and technology specialists to develop their exclusive Perfect Fitsystem to ensure you get a bike that is the correct fit. As you build your bike to order online you select from three riding positions (Relaxed, Neutral, or Athletic) and submit 3 body measurements. Using your unique geometry roll: can select the correct frame size, and then the correct contact points and set up to complete your new ride. Each contact point position is marked so that when your bike arrives you can set it up correctly.
The disc brakes provide consistent stopping power so you can feel confident riding the bike in any weather condition. The grime on the city streets is little match for the sealed bearing hubs, headset and bottom brackets.
When a bicycle company pays attention to the details this is what you end up with. Overall, a really great city commuter that's reliable, comfortable and fun ride.
This article was written by Gwendal from Momentum Magazine, Find the original article here.